Top 10 Design Trends in 2020 and How to Use Them in Presentations
Now that we are getting closer and closer to the end of 2019, it's time to let go of a few things and embrace what 2020 has to give us. And we're excited to see how the next year is going to look like in matters of design. 
Brands are integrating their identity in all types of design searching for what meets their personality and their customers personality. 
We are curious on how the next visual trends are going to be used, especially in presentations, and we are sure that 2020 is going to be the year of visionaries and gallants.
After a deep research we settled on 10 Trends and put them to test, to see how they can be leveraged into making more engaging presentations.
1. Bold Typography
One of the most fundamental design elements is typography, it communicates visually and literally the purpose of the message. Recently, a lot of brands are integrating strong sans-serif fonts in their design or in their branding.
Simplicity is a good idea, but people want to see a design that stands out and grabs their attention. Combination of different font weights and density values, combinations between vertical, diagonal, and horizontal orientation, and even messy typography will be more and more popular.
Via Tumblr
Typography is also used in the creation of logos.
Via Behance
"Adaptive typography has continued to grow in popularity in 2019, as designers have found more practical and productive uses for kinetic fonts," says Alex Halfpenny, design director for Elmwood
How to use this trend in presentations
We'd recommend bold typographic compositions to be used as visual breaks from normal content slides on new slides like section dividers or quote slides (since they're highly visual impactful and easily editable). 
As for normal slides, bold typography can be used as a visual element that contrasts with a block of text and information used in a usual content slide. 
You can also read more about how you can use typography in general in your presentation in our detailed article we did a while ago: Using typography in presentations
2. 3D Design 
3D projects are increasingly filling our world. Films, drawings on asphalt, logos and much more are becoming more voluminous.
Via Dribble
The three-dimensional method in designs has been ever present in the past year and in 2020, it's expected to advance by adding a layer of realism in textural experimentation.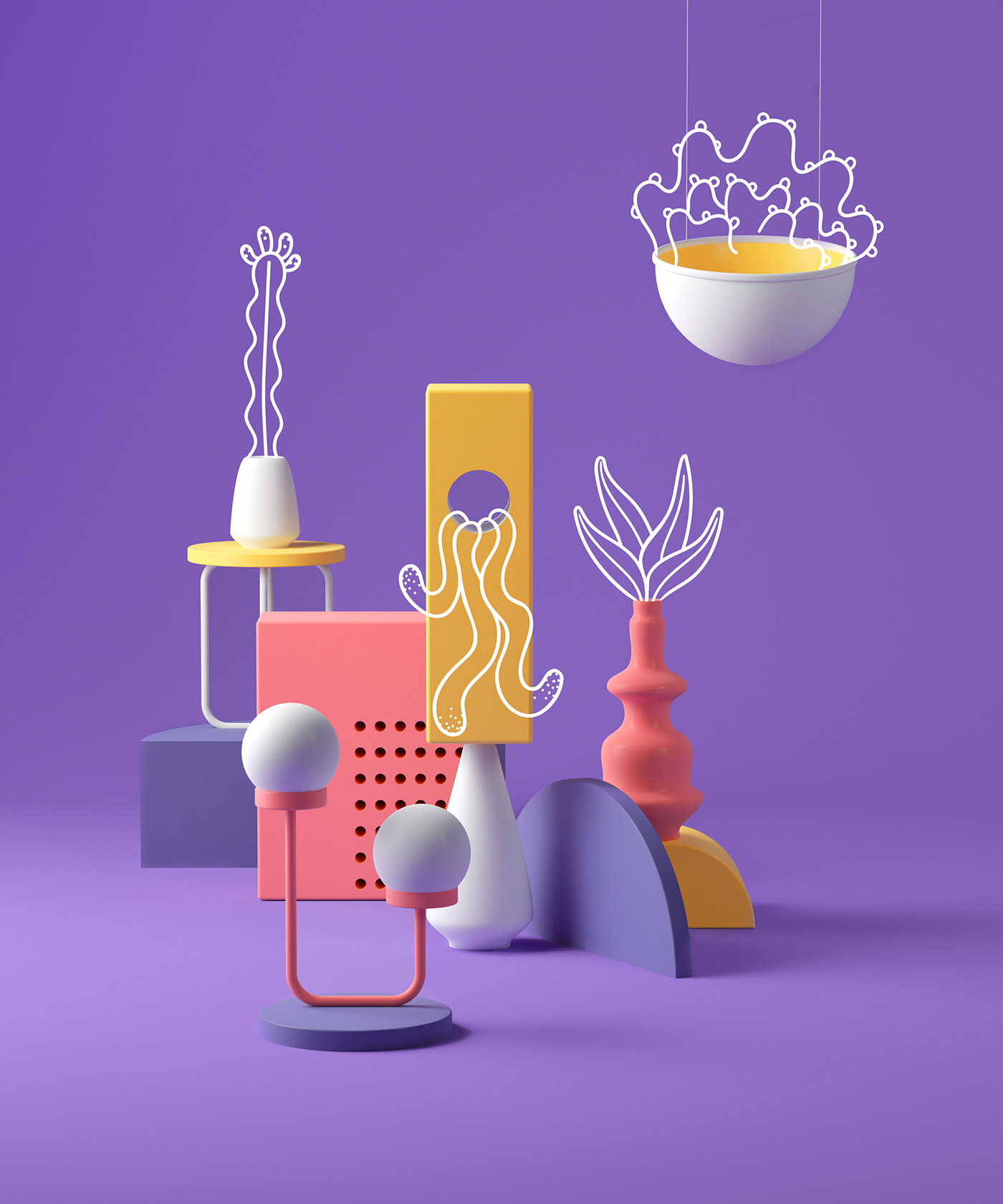 Designers are always trying to craft authentic experiences for viewers. What better way to do so than with a 3 dimensional design.
Via Pinterest.
How to use this trend in presentations
Incorporating 3D looking graphics and elements into a slide layout will definitely help bring that slide to life. For example, you can bring an extra depth to a slide if you mix together text with a 3d element and arrange them one on top of the other (and then finish off the slide by adding a background color from the 3d graphic so it all blends nicely together).
Or another type of graphics that border on 3D elements and illustrations are isometric illustrations, which have been quite popular for the past couple of years (especially on tech websites). You can use these in slides similar to the above the fold section of a website (and so can be used for short slides, like a cover, or a unique value proposition slide where you have just a headline and a short paragraph).
Then, Microsoft Powerpoint has its own 3D objects that can be directly incorporated into a presentation, which you yourself can rotate and view inside the actual presentation, bringing slides to a whole new level. While the complexity and design of these elements aren't yet super high end, they can still bring something extra and unexpected.
3. Fluid Shapes
Organic shapes have caught on in popularity and can be found in many designs today but in 2020, they're projected to have more of an impact by being applied to brand identity systems, 3D forms and short motion graphic videos.
A designer can use flowing shapes and lines to make their graphics seem down to earth, creative, and authentic. 
Via Dribble.
How to use this trend in presentations
Fluid shapes help slides look more dynamic and lively, and they can be used throughout most type of slides. We'd recommend using them as background graphics, especially on light content slides.
4. Short videos – GIF
GIFs are now part of our communication. The short videos express more than we can say in a familiar way.
Animation is one of the most powerful ways to bring a brand to life, and it has become increasingly commonplace online. It's pretty easy to create your own branded GIFs, even if you don't have a designer on staff. These branded GIFs will have a much bigger impact on your audience, especially in the digital world and on social media.
Via Mailchimp
How to use this trend in presentations
What's really cool about GIFs is that when added to a presentation and once you project the slide, the GIF starts playing! This is a really great way to showcase how a certain solution works in demo slides, or can be used as very effective visual breaks (as well as storytelling wise: imagine a well placed meme inspired gif for a small comedic moment).
5. Thin Lines
Line art is a schematic, simplified illustration style. As such, it is great for conveying concepts and ideas. It looks clean, elegant, and unobtrusive. Line art is one of the preferred decoration styles in graphic design trends 2020. 
Via Dribble
Linear elements and shapes create a calming yet sophisticated experience for the end user. This trend specifically caters well to luxury brands as they aim to intrigue the customer with a high-end look. 
Via Behance
How to use this trend in presentations
Line art has been on the rise recently in presentation, thanks in part to the trends of minimalist presentations (in geometric or abstract styles). Whether used as part of a background, a more complex graphic or diagram, or through various line icons, this trend will help bring a modern and clean vibe to your slides.


6. Image and text masking
As it leaves a big portion of the image behind unrevealed, it helps achieve a mysterious and minimalist look. In 2020, designers will keep creating compositions with image and text masking, of course sticking to maxi typography for the latter in order to achieve the desired effect.
Via Pinterest
Via Dribble
How to use this trend in presentations
This probably will be one of our favorite trends going forward as the end result look so elevated! You can for example use a whole word to mask a duplicated image to show even better the connection between the key word and image. Or use a single or double letter to carve out an imposing background that gives a bit of depth and 3D to your slide.
7. Modernized Retro
Using earthy colors and hand-drawn ink illustrations, web and graphic designers are creating compositions that convey the home-feeling of the 50s' designs. Everything new is a well forgotten old. However, it's definitely hard to forget the amazing 50s and the following trend confirms this.
Via Dribble
Via Pinterest
How to use this trend in presentations
With an ever growing lot of backgrounds, textures, fonts and graphics available on stock sites (both free and paid), making retro looking presentations has never been easier. These resources come with great mockups that give some good inspiration examples of the backgrounds, color palette and fonts that you can us in your presentation.
8. Tailor made presentations
One of the best things about using illustrations is that no other company is going to be able to copy them exactly. But using illustrations in graphic design isn't anything new. In fact, designers often incorporate illustrations to convey concepts and ideas and communicate messages better.
Via Mailchimp
Not using so many details allows designers to concentrate on the message they want to send.
Via Airbnb
How to use this trend in presentations
Like the isometric illustration trend, this trend too has been quite popular especially with tech startups recently. From Slack to Mailchimp, everybody's been using this style.
Whether large illustrations that complement a key message or smaller, subtler illustrations as background elements, these type of graphics help convey a friendlier and warmer vibe.
9.  Data Visualisation
The world is becoming more and more data centric. Results, facts, predictions, all must be expressed in numbers and graphics. 
Data has become the world's most valuable resource. As its value keeps increasing, so does the need for visualising and communicating data to the public.
Via Pinterest
Via Dribble
How to use this trend in presentations
Presentations will always be a preferred medium to share data with an audience. With default charts and graphics, Powerpoint has always had a good starting point to help visualise data. You can take a step further and try to find different visual metaphors to move data beyond the traditional pie chart. Or take one of the above trend (like custom illustrations or line art) and give the default graphics a modern and refreshed look.
10. Zero Gravity
Zero gravity type of design combines a flat background, a 3D object and removes any sense of context in order to create the illusion that the object simply floats in thin air.
Via Dribble

Via Behance
How to use this trend in presentations
You can consider this trend as the 2.0 of the 3D trend described earlier and you can pretty much use these type of 3D graphics in similar ways and for similar type of slides. You can even combine multiple 3D objects one on top of the other to give a feel of that controlled chaos that happens in zero gravity.
" We'll be seeing more visual only presentations (no text at all), but also text only presentations (with minimal text, in elegant compositions and layouts), depending on the context of the presentation and how it will be used. For example, a text only presentation is better when emailed (as it can stand on its own) and is ideal for domains like financial, investment or medical "
Mihai Zamfir, founder of Visual Hackers
These are top 10 design trends that will affect presentations in 2020. Choose what suits your style and your content and let your creativity free.